Energy Saving Tumble Dryer Balls Stock Number: ES1086381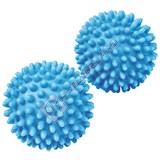 View full product details
Soften fabrics naturally and save up to 25% on the cost of running your tumble dryer and for savings in the washing machine try ES1771592 Dr. Beckmann Colour & Dirt Collector
Answer this question
No, they are designed for dryer use only.

Samara at eSpares says...

Hi Nineo, You could put these balls in your washing machine but I'm not sure what the benefits would be. They would help agitate your clothes but that's also what the drum lifters are for. I have seen products for the washing machine that are simliar in form but supposedly reduce limescale. The real benefit of these balls are that they help reduce the time it takes to dry your clothes - thereby reducing the amount of energy consumption used.
Q&A tips & guidelines
Focus on the features or function of the product
Write your question in clear English
Be polite! Profanity won't be approved
Don't include personal info
Don't name other websites
Don't mention product prices