Your grass trimmer will of course come into contact with a lot of dirt and debris every time you use it. So, to keep it working to its best, it's important to keep it as clean as possible. In this article, we have highlighted some key steps to take whenever you complete this task.
How to clean your grass trimmer step by step
We recommend that you give your grass trimmer a good clean after every 10 hours of use or sooner if you notice debris has built up. Follow the steps below to ensure you're giving your grass trimmer the deep clean it needs.
Please make sure that your grass trimmer is switched off and completely disconnected from the mains before you begin.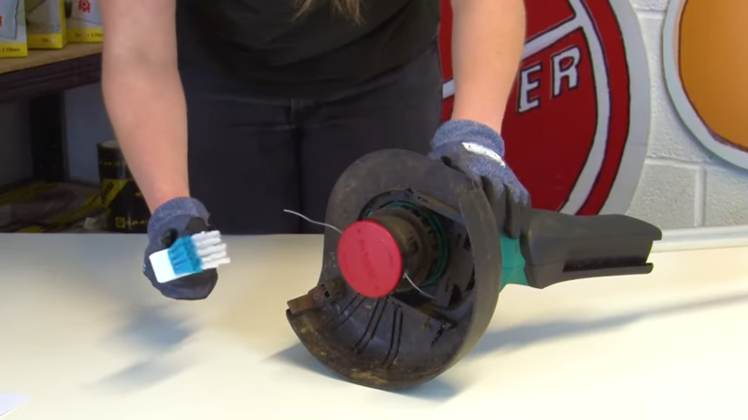 To begin, start by wiping the trimmer's casing. This can be done with a damp cloth but be sure to avoid the switch and motor areas when you do this.
Next, use a soft brush or a vacuum cleaner to clear any blockages from around the ventilation slots. When trimming, you'll want to keep the motor well ventilated as a poorly ventilated motor can lead to faults developing in your appliance.
Step 3 – Remove dried-on dirt
Inspect the base of the machine to check for any build-up of dried grass or pockets of debris. Use a stiff brush to remove these from the base, around the line feed area and under the guard plate.
There you have it, our simple guide to cleaning your grass trimmer. With regular care and maintenance, you can help ensure that your trimmer continues to run and perform throughout the lawn care season. If you find that any part of your grass trimmer needs replacing, you can find a wide range of spare parts and accessories on the eSpares website.
As well as grass trimmer spares, eSpares stocks a huge range of garden spares and outdoor accessories as well as outdoor cleaning products whether you're looking to stock up on garden essentials, fix faults with your appliances to keep them working to their best.
Don't forget to sign up to our mailing list below to stay up to date with all our household and garden appliance fixes as well as latest offers and discounts.