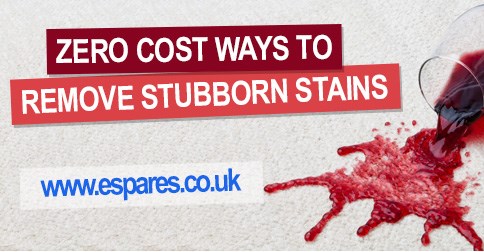 View All Cleaning Products Now »
Carpet stains are easier to avoid than to clean, but you know what they say about hindsight. If it's already too late for your carpet, here are our top tips to get the trickiest stains out pronto.
Candle Wax:
Allow the wax to harden and remove what you can with a blunt object. Cover what's left with an absorbent paper towel and iron it on a low heat, being careful not to directly touch the carpet with the hot iron. The wax should heat up and stick to the paper towel, lifting itself away from the carpet fibres.
Red Wine:
Wine stains are tricky to remove, but we recommend trying an eSpares customer favourite Red Wine Stain Remover.
Grease:
Remove any solid greasy bits with a blunt object, like a butter knife or a spatula. Then blot with a paper towel to remove any excess fat, and sprinkle with talcum powder. Leave the powder to absorb and then vacuum up.
Powders:
If you've dropped your compact, or pollen has landed on your carpet, wrap tape sticky side out, around your fingers and gently blot. Vacuum and treat any remaining traces with a carpet cleaning spray, blotting gently with paper towels.
Day-to-day Carpet Care:
Caring for your carpet is an investment well worth making, after all it's not cheap to replace. Our suggestions will help you keep your carpet looking its best:
No Shoes Please:
If possible, try establishing a no shoes policy in your home. Wearing your shoes in the house brings in outside dirt, which gets embedded in your carpeting and causes premature wear.
Get a Carpet Runner:
High traffic areas in your home, like the front hall, can be protected with carpet runners that are relatively inexpensive and easy to replace.
Clean All Spills Immediately
Vacuum Regularly:
Vacuuming is particularly important for homes with allergy sufferers who are sensitive to dust mites.
Take Care of Your Vacuum:
If your vacuum has lost its suction, watch our video on loss of suction in a vacuum cleaner. Maintaining your vacuum will help it perform its best for years to come.
Consider a Domestic Carpet Shampooer:
If you've got light carpets, a shampooer will help you keep them looking bright and fresh.