Pressure Washer Water Inlet Pipe

Stock Number:

ES537988

Genuine spare part for select Karcher pressure washers

Manufactured by Karcher

(This part fits select models)
Will this part fit my Appliance?
Pressure Washer Inlet Pipe
If your pressure washer water inlet pipe is faulty, water may be leaking out from inside of your machine. Replace it with this spare from Karcher to fix it yourself. Cleaning areas around your garden will be more efficient giving you the confidence to tackle jobs you once thought were impossible.
Please Note: Check the image below, if the part you need is positioned underneath the control head, then this is the correct part. If it is positioned to the left or above the control head, then this is not correct part you require.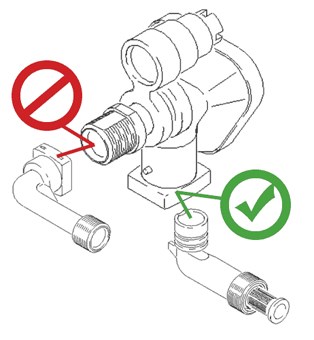 Genuine spare part for select Karcher pressure washers.
Please check the model fit list to ensure compatibility with your appliance.
eSpares Staff at eSpares says...

This product comes as shown, the O ring seal would need to be ordered separately if required.
Answer this question
inlet pipe has blown of the pump. It has broken the small casting where the circlip holds it to the pump. looks a very poor setup! the pressure washer has not done a lot of work and on seeing the way this inlet pipe is fixed to the pump I don't think I would buy another Karcher. looks as if the washer is scrap because of a flimsy casting which has broken.
Chris at eSpares says...

We have never known the pump to fail during use unless previously weakened due to freezing, It sounds like you have identified parts required but are just considering if you wish to continue. If you need any help in identifying any parts please give full model number and production numbers to assist us.
Answer this question