Energy Saving Tumble Dryer Balls Stock Number: ES1086381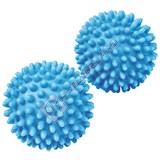 View full product details
Soften fabrics naturally and save up to 25% on the cost of running your tumble dryer and for savings in the washing machine try ES1771592 Dr. Beckmann Colour & Dirt Collector
Answer this question
Whilst not their specific aim, is it likely the use of them could reduce the charge built up ? I ask because I often receive quite a jolt ( plus seeing sparks !!) when sorting through the dried clothes.
Thank-you for your response. I didn't know about the drying time and that has made a substantial difference to lessening the static electricity charge. Thank-you for the advice.

Chris at eSpares says...

We do not think these balls will make a noticeable difference to the static charge in the drying load. Over drying man made materials can result in excess static.
Q&A tips & guidelines
Focus on the features or function of the product
Write your question in clear English
Be polite! Profanity won't be approved
Don't include personal info
Don't name other websites
Don't mention product prices