Most modern petrol lawnmowers have compact four-stroke engines, which take unleaded petrol, and depending on the model, the motor will power either rotary or cylindrical blades.
Most small engines require the operator to pull a starter cord to kick-start the motor. Some larger self-propelled models may have a battery and starter motor.
The petrol engine turns the blades directly and on some models there may be a separate brake to stop the blades.
The speed of the blades is adjusted by the throttle on the handlebar. This pulls a cable that opens and closes a valve in the carburettor, to control the amount of fuel delivered to the engine and its speed.
The rotating blade under the mower deck lifts and cuts the grass as it spins. Grass cuttings are blown through the grass box channel and deposited on the lawn or in a box, if fitted.
The cutting height is determined by adjusting the height of the front and rear wheels. This is done by moving levers.
How Grass Collection Works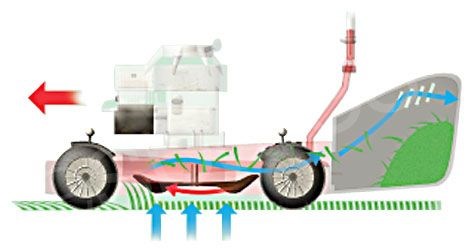 Because the blades have twisted ends they act like propellers, drawing air under the outer edge of the mower.
This lifts the grass, making it easier to cut, and also blows the grass cuttings out of a channel on the rear of the mower into a grassbox.
A grille in the rear of the box allows the air to escape while the grass stays inside. If the box is not fitted, a flap covers the channel and the cuttings drop onto the lawn.