Lighting is responsible for roughly 18% of a typical household's electricity bill – so it is understandable that homeowners are looking for the most effective way to light up their homes.
One such way is to switch to LED bulbs, and with an EU ban on halogen bulbs set to kick in from 2018, it is expected more homeowners will be switching to LED lighting. To help those who have yet to switch, below is a guide on how to get the ideal LED bulb for your home.
Choose The Right Bulb Fitting:
LED bulbs are available in a range of cap fittings, and can be used as direct replacements in your existing lights. Some of the more common cap fittings you're likely to find with LEDs are:
B22 – Bayonet (BC) ,UK's most common cap fitting – with a push-and-twist action. B22 bulbs are found in many different light fittings.
E27 – Edison Screws (ES), which are widely used in ceiling lights along with table, wall and floor lamps.
E14 – Small Edison Screw (SES), traditionally used in smaller decorative fittings, as well as most domestic appliances.
G9 – Also known as capsules, these are found in 240v mains applications.
GU10 – These have bi-pins and often come with a twist-and-lock fitting. They are used in the large majority of spot lighting.
MR16 – Bi-pin bulbs with a push-fit spot lamp, often used in 12V low-voltage spotlight circuits.

Select The Right Shape:
The shape of the bulb you require will be dependent on what light fitting you have. As with halogen and CFL bulbs, LEDs come in a variety of shapes including:
GLS – These are the traditional shape standard light bulb. These bulbs are best for ceiling lights, along with floor and table lamps.
Golf Ball – Named due to its shape, this bulb is normally used for decorative lights or table lambs.
Candle – These provide accent lighting in the right areas and are ideal for chandeliers or where a subtle glow is required.
Spotlight – Also known as PAR16 bulbs, spotlight bulbs are ideal for ceiling lights and are often found in kitchens and bathrooms.
It is also worth remembering that each shape of bulb provides a different spread and angle of light, for example, a GLS bulb produces up to 240° spread of light, whilst spotlights produce narrower or more direct beams.
Brightness:
Unlike other energy saving bulbs, like CFL, LED bulbs almost instantly reach full brightness. The amount of light they produce will depend on the lumens offered by the bulb.
Lumens, which have replaced the watt measurement are denoted by the symbol lm, and are the measure of the total amount of visible light emitted from a bulb. The higher the lumen rating the "brighter" the bulb will be.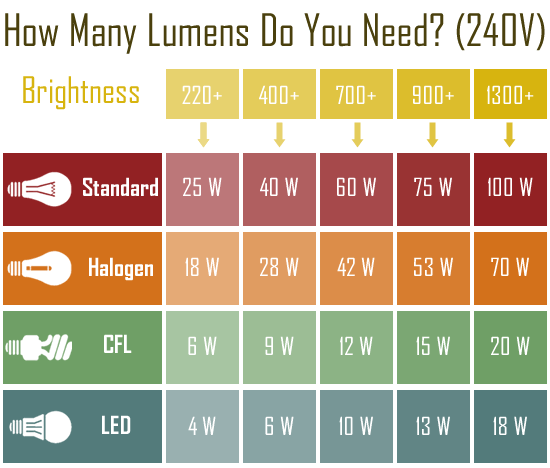 Along with choosing LED bulbs based on their lumens, you'll also need to select a bulb based on its light colour, which is denoted by "kelvins". There are 3 main colours of LED bulbs; warm white, cool white and daylight.
Warm white bulbs produce light with a yellow tint, and are the closest to traditional halogen and incandescent bulbs. They are recommended for living or family rooms and commercial or hospitality areas. These have a rating of 2700 – 3000 kelvins.
Cool white bulbs offer a cleaner light and are brighter and livelier than traditional bulbs. They are recommended for kitchen and bathrooms as well as garage spaces or commercial areas. These have a rating of 3100 – 5000 kelvins.
Daylight bulbs produce a crisp vibrant light and are recommended for display areas, security lighting and garages. These have a rating of 5400-6500 kelvins.
Why Switch to LED Bulbs?
Switching to LED bulbs offer a number of benefits both to you as a homeowner and also to the environment, making them a greener choice.
The biggest benefit to the environment is that they can prolong the effects of global warming. As LEDs convert up to 80% of energy into light and give off very little heat, they can reduce carbon emissions by up to 50%. They also contain no harmful substances, like mercury, meaning they are safer to use and can be recycled without damaging the environment.
For homeowners, the main benefit of switching to LED is saving money. Although the initial cost may be slightly more, they use 90% less energy compared to traditional incandescent bulbs and can last up to 20 times longer, resulting in huge saving on your electric bill.
It is estimated the annual running cost of an LED bulb is £1.71, whilst halogen bulbs is £8.42 and CFL is £2.04. This could save up to £140* per year and over the lifetime of the bulb could save you £1,000's.